Teachers (待翻译成中文)
Sayadaw U Pandita passed away on April 16, 2016. The retreat will be led by his chief disciples who provide one-on-one instruction to yogis during these annual retreats.We have listed the teachers below and where possible have provided biographical information. Please note that while all teachers listed may not be available for every retreat, the center will provide the highest caliber and best trained mediation instructors for yogis at the center.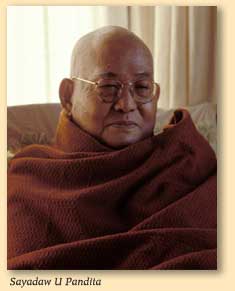 Sayadaw U Pandita
Sayadaw U Pandita-Bhivamsa entered the Mahabodhi Monastery at the age of seven. He became an accomplished Buddhist scholar even before studying meditation under the late Ven. Mahasi Sayadaw. (The Venerable Mahasi Sayadaw is famed for reviving and teaching the practice of Satipatthana meditation to lay people as well as monks and nuns.) Sayadaw U Pandita was considered to be one of the leading authorities in the practice of Satipatthana as taught by his instructor the late Venerable Mahasi Sayadaw. He possessed extensive knowledge in both the theory and practice of Samatha and Vipassana meditation. For over 40 years Sayadaw served as spiritual advisor to retreat centers, monasteries and Buddhist organizations throughout the world. From 1951 to 2014, he traveled to many countries to lead meditation retreats. Formerly the head "abbot" of Mahasi Sasana Yeiktha, in 1993 he became the Ovadacariya Sayadaw (head preceptor, highest position for monks) of Panditarama monastery in Yangon, Myanmar.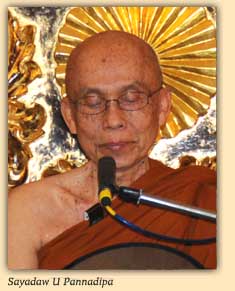 Sayadaw U Pannadipa (Beelin Sayadaw)
Sayadaw U Pannadipa has been teaching meditation since the mid-60s. He is a Nayaka Sayadaw, considered the highest and most respected level of a qualified teacher and is very experienced teaching western yogis. Sayadaw U Pannadipa lived and taught in England for a number of years. For a decade he was the abbot at Tathagata Meditation Center in San Jose, California and continues to teach there.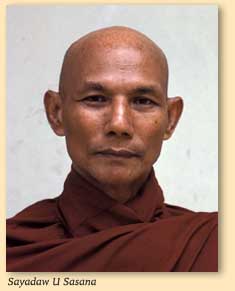 Sayadaw U Sasana
Sayadaw U Sasana has been a meditation teacher for over 30 years and is also a Nayaka Sayadaw. He completed the Pali teaching degrees of Sasanadhaja Dhammacariya and Vinaya Paliparagu. Sayadaw has also taught at renowned meditation centers such as Jeyyavati Sasana Yeiktha, Mahasi Sasana Yeiktha and Panditarama. He currently is the Abbot of his own center, Gant Gaw Myaing Sasana Yeiktha in Yangon.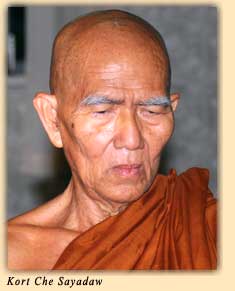 Kort Che Sayadaw
Kort Che Sayadaw has been a fully ordained monk since 1956. Sayadaw U Pandita and he both grew up in the Bago district and had the same monastic preceptor who looked after their training in the monastic disciple called Vinaya. When he was a novice monk, he learned the scriptures from Sayadaw U Pandita at the Kyitekasan monastery. He came to the Panditarama Forest Center to meditate in 2000 and 2003. In 2006-07, he taught meditation in Nepal and has been guiding yogis at the Panditarama Forest Center since 2008.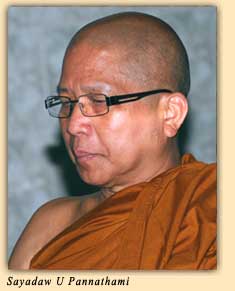 Sayadaw U Pannathami
Sayadaw U Pannathami, also a Nayaka Sayadaw, practiced meditation under the guidance of the late Venerable Mahasi Sayadaw and Venerable Sayadaw U Pandita. He speaks English very well and has guided meditators in retreats in Malaysia, Singapore, Australia, Canada, Switzerland, Nepal, the U.K., and the USA. Sayadaw spends most of the year living and teaching in Australia.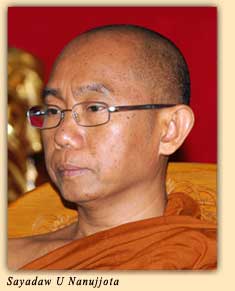 Sayadaw U Nanujjota
Sayadaw U Nanujjota-Bhivamsa began practicing meditation at the Mahasi Sasana Yeiktha Meditation Center in Yangon when he was 23 years old. After completing his formal studies at the age of 31, he moved permanently to the Mahasi Center in Yangon. Later, in 1991, when he was 36, he moved with Sayadaw U Pandita to the new Shwe Taung Gon Panditarama Meditation Center. Sayadaw U Nanujjota lived in Manchester England for 10 years at the Saraniyadhamma Meditation Center. He is currently living and teaching meditation at the International Buddhist Meditation Center in Kathmandu, Nepal.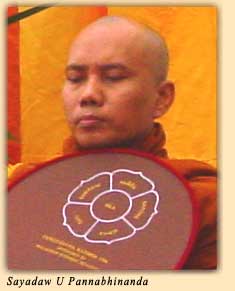 Sayadaw U Pannabhinanda
Sayadaw U Pannabhinanda has lived and taught meditation at Panditarama for many years. He is currently teaching meditation in Malaysia and Singapore.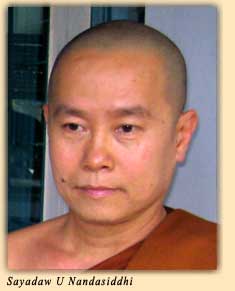 Sayadaw U Nandasiddhi
Sayadaw U Nandasiddhi first practiced meditation with Sayadaw U Pandita in 1977. He has lived at Panditarama since 1995. In 1999, Sayadaw U Pandita sent him to Malaysia to teach meditation. In 2005 Sayadaw established the Nirodharama Meditation Centre in at Ayer Tawar Perak Malaysia where he currently resides. In addition to Burmese, Sayadaw speaks Mandarin and English.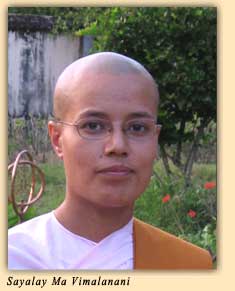 Sayalay Ma Vimalanani
Sayalay Ma Vimalanani is a Nepalese nun who has studied and trained with Sayadaw U Pandita in Burma since 1991. In 1999, she completed the rigorous Dhammacariya degree which qualifies her to teach the Buddhist scriptures. After many years of training and translating yogi interviews, she began to guide foreign yogis at the Panditarama Forest Meditation Center in 2006. In addition to teaching yogis during the two-month retreat at Panditarama in December and January, she teaches meditation and Pali at the International Buddhist Meditation Center in Nepal. Sayalay Ma Vimalanani is fluent in Nepalese, English, and Burmese.
来源:美国的班迪达森林中心护持网站 http://www.saddhamma.org/html/teachers.shtml